Ministry of Finance, Trade Investment and Economic Planning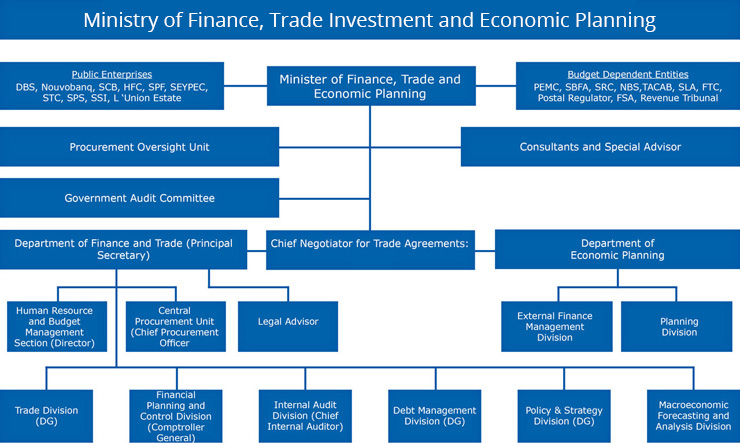 Vision
The Seychelles Government's finances are managed prudently and in line with a macro­economic framework geared towards sustained growth and the well being of the Seychelles nation.
Mission
Apply standards of best practice in the day to day management of the Seychelles finances and be responsive to changing economic and financial parameters as well as national policies and objectives.
Biography of Ambassador Maurice Loustau-Lalanne
Minister of Finance, Trade, Investment and Economic Planning of the Republic of Seychelles
Ambassador Maurice Jean Leonard Loustau-Lalanne was appointed Minister for Tourism, Civil Aviation, Ports and Marine on the 30th December, 2016.
He studied Aviation studies in the United Kingdom. After returning to Seychelles in 1981 he was the first appointed Director General of Civil Aviation.  In 1983, he joined Air Seychelles as Executive Director of International Operations, and subsequently became its Executive Chairman until 1988. 
Mr Loustau-Lalanne has thereafter held the position of Principal Secretary in the Ministry of Tourism and Transport for a period of ten years (1988 – 1998), followed by 5 years as Principal Secretary in the Ministry of Environment (1998 – 2003) and 2 years in the Ministry of Health (2004 – 2006). He held the post of Chairman and Chief Executive Officer of the Seychelles Tourism Board (STB) from 23rd January, 2006 to 30th June, 2010. He was seconded to Air Seychelles as the Executive Chairman on a temporary basis from March to September, 2011. Mr Loustau-Lalanne occupied the post of Ambassador/Principal Secretary for Foreign Affairs in the Ministry of Foreign Affairs and Transport of the Republic of Seychelles from 1st July 2010 to 31st May, 2016. He was seconded to the Health Care Agency on a temporary basis from April, 2016 and was appointed Secretary of State for Health from 1st June, 2016 to December, 2016.
Mr. Loustau-Lalanne is currently the longest serving Director of Air Seychelles Board which he joined in 1983.  Having witnessed the creation of Air Seychelles in 1982, and actively participated in the pioneering role it played in the development of both the Transport and Tourism industry of the Seychelles remains a great sense of pride.
During his leisure time Mr Loustau-Lalanne enjoys Big Game Fishing and Environmental Protection Projects. His new sporting passion is Golf.
1 Finance and Trade Department
Vision
Advance economic growth and accelerate development creating more prosperity for every Seychellois.
Mission
Manage the Seychelles economy through sound financial and economic policies plan carefully and structure strategies for sustainable development and economic stability with the object of promoting more national unity and social justice.
Functions
Be the main driver of sound and sustainable economic policies in line with Government's vision of a modern and efficient economy;
Create a modern and enabling environment that is conducive for the private sector to become the engine of growth and government the facilitator;
Formulate and implement a fiscal policy framework for the government, whereby the financial resources are managed effectively and efficiently.
1.1 Fair Trading Commission

Legal Instrument
Fair Trading Commission Act 2009; established to administer the Fair Competition Act 2009 and the Consumer Protection Act 2010
Vision
Be the leading institution in the protection of consumers and the competition process for the promotion of socio-economic welfare
Mission
Advocating and enforcing consumer rights and obligations whilst fostering a fair and competitive business environment in Seychelles
Functions
The Fair Trading Commission was set up to safeguard the interests of consumers, to monitor and investigate the conduct of business enterprises, to promote and' maintain effective competition in the economy.
The Commission is to enforce written laws relating to consumer protection, fair competition and other written laws which it has jurisdiction to administer. Hence its main functions are as follows:
Promoting efficiency and competitiveness among business enterprises and service providers;
Improving the standards of service, quality of goods distributed ad services supplied by business enterprises and service providers;
Promoting and advancing the welfare of consumers by:
The achievement and maintenance of a consumer market that is fair, accessible, efficient, sustainable and responsible for the benefit of consumers;
Reducing any disadvantages experienced by consumers, in accessing any supply of goods or services;
Promoting fair business practices;
Protecting consumers from unconscionable, unfair, unreasonable, unjust or otherwise improper trade practices, misleading, deceptive or fraudulent conduct;
Improving consumer awareness and information and encouraging responsible and informed consumer choice and behavior;
Promoting consumer confidence, empowerment and the development of a culture of consumer responsibility through education and advocacy;
Providing for an accessible, efficient, harmonized and effective system of redress for consumers.
1.2 National Statistics Bureau (NSB)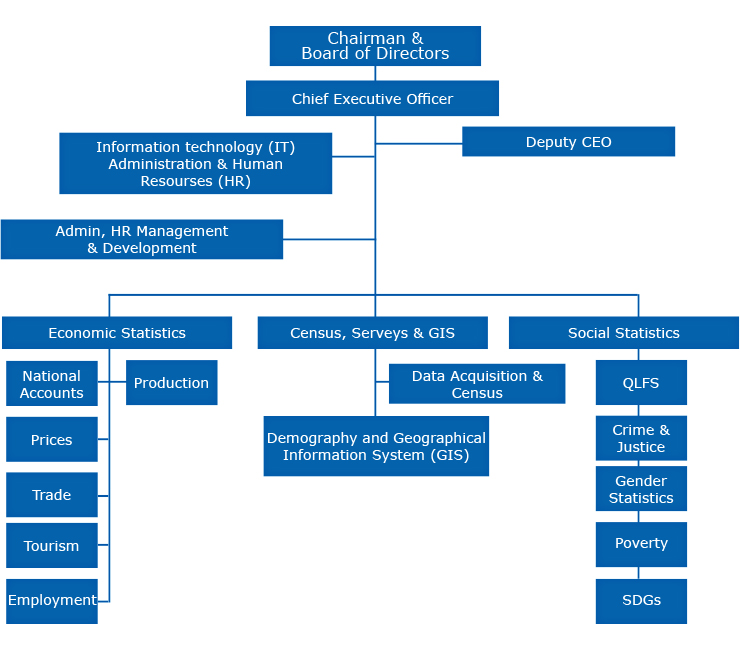 Our Vision
Become the centre of excellence in production and dissemination of statistics in Seychelles.
Our Mission
Continuously build and develop a coherent, reliable, efficient and demand driven "National Statistical System" to support informed decision and policy making.
Our Values (QUALITE)
Quality
User-friendly Statistics
Accessibility
Learning Organisation
Integrity
Trust
Employees

» Act-14-Bureau-of-Statistics-2010
1.3 Postal Regulatory Agency
Instrument
Post Office Act of 2010 and the Universal Postal Convention
Vision
To develop an efficient and effective communication regulatory framework promote efficiency among the services providers and protect consumers interest with an objective of contributing to socio-economic and service development in Seychelles.
Mission
To be a world class regulator in Seychelles creating a level playing field among the services providers of the Legal Postal Sector and promoting accessible and affordable service to consumers.
Functions
Provide:
Universal and non-universal postal services;
commercial services; and
other Government services, throughout the Republic and between the Republic and other countries in a cost effective manner;
In relation to universal postal services, meet delivery targets set by the Postal Regulator;
Provide suitable access to postal and ancillary services;
Act as an agent for other companies in the provision of retail and counter services and transactions, and network and delivery services;
Establish and operate post offices;
Develop and enhance postal services in line with worldwide best practices;
Issue and effect regular issues of postage stamps;
Levy rates and charges for any service performed by it;
Provide financial services involving the remittance of money domestically and internationally in accordance with the Financial Institutions Act;
Provide enhanced postal related services in the areas of information and communication technology, postal financial services and other commercial activities; and
Ensure the fulfilment of the obligations of the Republic to the Universal Postal Union and such other international, regional or sub-regional bodies as the Postal Regulator may designate.
1.4 Public Enterprise Monitoring Commission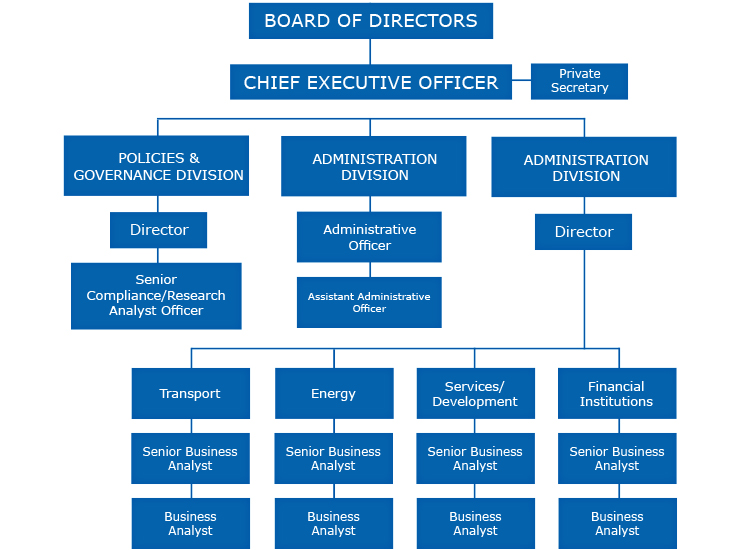 VISION
Our Vision is to "To promote effective and efficient commercial Public Enterprises within the Seychelles".
BOARD OF DIRECTORS
The Commission is governed by a Board of Commissioners, currently comprising of five members. The Commissioners are appointed by the Minister of Finance and are selected based on their knowledge and experience in matters relating to industry, trade, finance, science or administration.
1.5 Small Business Financing Agency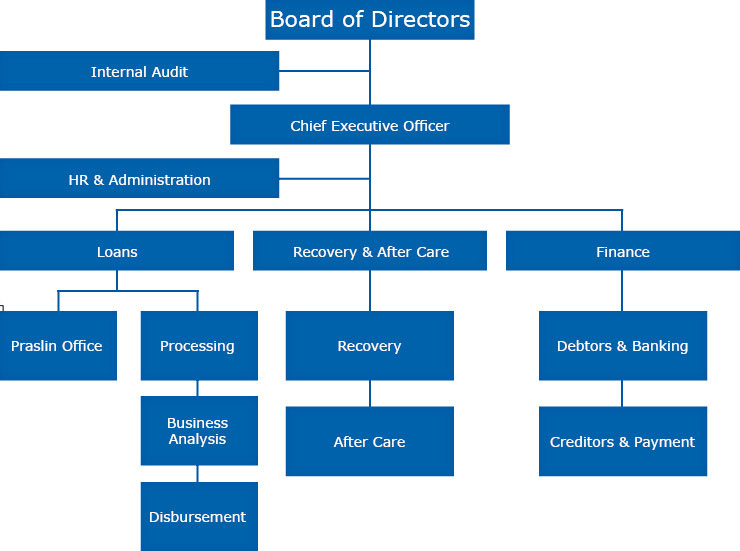 Legal Instrument
Small Business Finance Agency Act, 2013
Vision
To encourage and facilitate the development of small entrepreneur in contributing in the Seychelles economic growth
Mission
Lead the creation of a more diversified economy due to a strong, competitive and innovative small business sector through financial assistance to small enterprises to start, grow, expand and remain a viable business.
Functions
The Small Business Financing Agency (SBFA) is an instrument to facilitate small businesses in accessing credit through concessionary loans in sectors of the economy that are primarily value added and promote local products and also those that normally would not be assisted by Commercial Banks.
Hence the functions of the Small Business Finance Agency are to:
Receive applications from small enterprises;
Process and approve all applications
Conduct site visits;
Appraise projects;
Prepare processing forms for consideration by CEO, Loans Committee and Board;
CEO/Loans Committee/Board's approval Monitor and provide advice to assisted loans;
Disburse loans Prepare loan agreement;
Finalise all the security and other formalities;
Recover all loans. Reminder letters;
Follow up with defaulters;
Conduct site visits to defaulters;
Liaise with lawyers for legal actions;
Maintain proper records of funds disbursed, received and repaid;
Provide after care service to small enterprises;
Maintain proper accountability of all funds managed;
Maintain SBFA asset register;
Maintain proper accounting records of all transactions;
Responsible for the opening and proper maintenance of bank accounts;
Submit monthly report to the Board;
Prepare Profit and Loss account and balance sheet for submission to the Board monthly;
Submit audited financial statement yearly to the Minister of Finance and National Assembly;
Increase awareness of the need for small businesses to meet their financial obligations.
1.6 Seychelles Licensing Authority
Vision
"Aiming to be the best".

Mission
We are committed to provide a high quality and efficient licensing service which meets the need and expectations of Seychellois and foreign customers, in support of economic, social and environmental goals and promotion of investment and development of businesses in Seychelles.

We value:
Professionalism
Confidentiality
Promptness and Reliability
Accountability and Transparency
Organisation Structure
SLA is headed by a Chief Executive Officer who is appointed by the President and is responsible for the day-to-day running of the Authority.  The President also appoints a Deputy CEO who discharges the functions of the CEO when the CEO is absent from duty or when he/she delegates the duties to the Deputy.

Technical Divisions
SLA has three Technical Divisions:
The Traffic Licensing Division
The Trade Licensing Division
The Inspectorate and Enforcement Division

Board of Directors
The Board of SLA consists of 8 members appointed by the President of which one is the Chairman 
1.7 Seychelles Revenue Commission
Introduction
The Seychelles Revenue Commission (SRC) is an authority that was established through the enactment of the Seychelles Revenue Commission Act 2009 as the body responsible for the administration of Revenue laws. The SRC Act also mandates SRC to operate as an independent Authority with responsibility to conduct its affairs in a transparent and efficient manner. However, the Ministry of Finance remains the parent Ministry with the responsibility to oversee major policy issues affecting revenue. SRC is headed by a Revenue Commissioner (CEO) who is responsible to the Minister of Finance for the management of SRC and the administration of all revenue laws.

I. Our mission
"Optimize revenue collection and facilitate trade to improve the socio-economic well-being of Seychelles"

II. Our vision
"To be a modern, fair and effective customer-oriented revenue administration"

III. Our core values
Integrity – demonstrate continually high moral and ethical behaviour while upholding the rule of law.
Impartiality – without favour, apply the law equally and fairly to all.
Professionalism – be courteous, conscientious, business-like and knowledgeable.
Transparency - share all relevant information to external and internal stakeholders.
Accountability – each officer is responsible for his/her actions.
Strategic Goals and Objectives

Mission statement: "Optimize revenue collection and facilitate trade to improve the socio-economic well-being of Seychelles"

I. Strategic goals
"...Taxpayers meet their obligations and Seychelles revenue increases...."

II. Strategic objectives

1. Improve voluntary compliance and facilitate trade.
2. Improve detection and sanction of all forms of tax evasion and smuggling.
3. Enhance our business capacity.
4. Develop a dynamic and professional workforce.
5. Promote good corporate governance